The power door locks in your BMW serve several purposes. The locks keep out intruders from stealing your car and any items inside it. They also keep passengers, such as young children, safely inside the car while it's moving. It seems like a trivial and commonplace component of every vehicle, but when the lock mechanism begins to fail or malfunctions altogether, it can lead to frustration, loss of property, and even put you in a dangerous position.
The Components of a BMW's Door Locks
Your BMW's power door locks are a complex assembly of parts that work with the car's electronic system. Modern vehicles use a key fob or code lock to enter the doors, such as pushing a button on the fob to unlock the driver's side door only or all doors, depending on the owner's choice of settings.
Once inside the vehicle, there are buttons to select to lock and unlock all the doors separately or simultaneously. This can prevent people from entering your vehicle or help keep children inside, should they pull on the door handle and accidentally open the door while the car is moving. If the mechanism fails to work properly, you and your passengers could be locked inside your car or locked out until you call for a tow to a garage for repairs.
Your BMW's Key Fob
Most modern cars use a key fob lock and unlock their doors. Some even allow remote keyless entry without having to push the button. Simply being near the lock with the fob in your purse or pocket is enough to trigger the locking mechanism. While technology is exciting and helpful, it also means that electrical malfunctions can occur as well as sensor degradation. If your locks fail to respond to your command, you can try to replace the battery in the fob as a first option. These are usually easily found at a hardware store or sometimes even in the electrical aisle of a large grocery store. If this doesn't seem to help the situation, replacement fobs can be purchased at dealerships and more affordably at BMW automotive centers.
The Door Lock Actuator
Your BMW's door lock actuator is part of the electronic device that activates the locks when you choose. If your actuator is malfunctioning, you may hear a click or grinding noise but the door will not lock. The actuator must have functioning mechanical parts inside that are uninhibited and free to move. It also needs power to lock and unlock instead of the old-fashioned manual push/pull knob. If either the mechanical parts or the electrical circuit is malfunctioning, your door lock actuator will not work.
Blown Fuses
The electrical system in your BMW powers everything from your alternator, battery, dashboard, overhead lights, and your door locks. If your electrical wiring is frayed or has encountered water or liquid, such as a spill or driving through flooded roads, the fuses may blow to protect the system from further damage. If your fuse burns out or is tripped in the fuse box, you may be able to open the compartment and replace the fuse yourself. If you are not comfortable checking this or performing this repair, it is a quick procedure for your trusted BMW mechanic. They can also run a quick diagnostic check to make sure there aren't other problems with the electrical system that will crop up if it goes undiagnosed.
Wiring Issues
Your BMW's door locks can fail due to the wiring system. Your electrical wiring usually doesn't degrade unless there is an outside problem like spilled liquid into the console, driving through flooded roads that allows water to get inside the wiring system, or following a collision, if there is a part that is rubbing against wiring and frays and/or severs the wiring completely. You may notice this problem as a gradual onset, such as the locks being responsive erratically. If you suspect something is amiss in your BMW, it's in your best interest to take it to your trusted BMW automotive center for a quick inspection so you won't be locked in or out of your car.
Turning Wrenches: Your BMW Specialist
If you are in need of service for your BMW,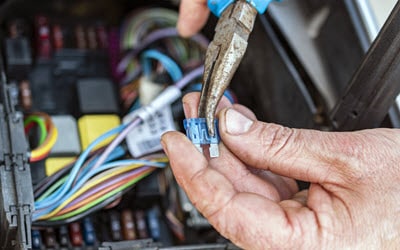 Turning Wrenches of Louisville, Kentucky is your go-to shop for expert help. Give us a call today if you need assistance with your door locks or if you want to schedule a service appointment. We look forward to earning your business.